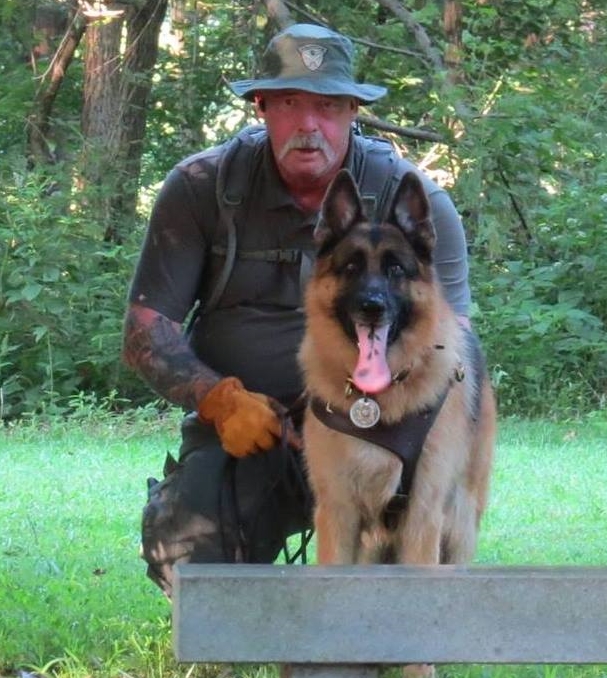 Bill Allen
AMPWDA Trainer
Bill had always been a Beagle man until about 6 years ago when he purchased his first German Shepherd, Axel. He started training Axel at a very young age, beginning with Air Scent training. Shortly thereafter he heard about AMPWDA and decided to make the 3 hour trip over for a Free Training. After that, both he and Axel were hooked. This started their adventure in Mantrailing. They continued practicing at home with the assistance of a good friend and K9 trainer, Eva, and once a month they would venture to Indiana to attend the monthly free training sessions. Bill and Axel went on to attend 6 AMPWDA National Seminars, the AMPWDA New Mexico Winter Workshop, the AMPWDA Pennsylvania State Workshop and the AMPWDA Real World Seminar. He and Axel certified multiple times at the operational level both in Mantrailing and HRD. In addition to his training with AMPWDA, Bill and Axel have worked extensively with Jeff Schettler in South Carolina, completing approximately 200 hours of training and certifying multiple times.

Bill and Axel were the primary K9 team for Macoupin County Illinois Emergency Management before joining up with the Macoupin County Sherriff Department as Auxiliary Deputies. In 2015, they left the Macoupin County Sheriff Department and became Auxiliary Deputies with the Perry County Sheriff Department. When Bill and Axel started working in Law Enforcement, they discontinued their HRD work and switched over to Narcotics detection and have been certified and recertified multiple times.

Bill and Axel have been on numerous callouts for live finds, apprehensions, HRD, and narcotics detection for a variety of cases including homicide, suicide, runaways, and more.

Bill enjoys working with the handlers and their K9s and likes to pass on any information he has learned through his training and work.