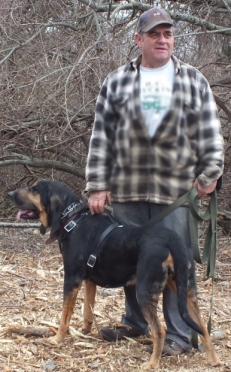 Billy Botelho
AMPWDA Trainer
Bill is a Vietnam veteran and retired Captain of the Jamestown Fire Department. He has two Bloodhounds, Abby and Ziva and has certified both. He has completed a variety of course work with various organizations, see below:

Rhode Island EMA: Response to Terrorist Bombings (PER-230), Prevention & Response to Suicide Bombing Incidents (PER-231) and ISC 300.

RIUSAR: Bloodborne Pathogens.

FEMA: IS15A, 100 & 100FW, 120, 139, 200 & 200FW, 208, 235, 241, 242, 292, 304, NIMS 700 and NIMS 701.

Bill is a member of the American Pet Search and Rescue Team in New England and has searched for and/or rescued numerous lost pets. When Bill is not working or training the Bloodhounds, he enjoys spending time with his Beagle, Shylo.