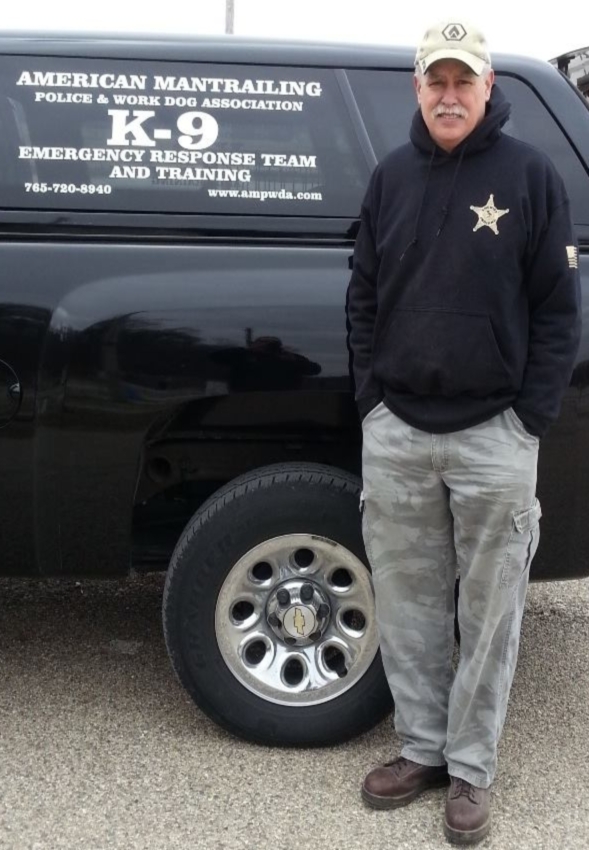 Dan Gray
AMPWDA Master Trainer - Administrator
Dan grew up raising dogs and training them for obedience and the show ring. At the age of fifteen (15), he finished his first dog as an AKC Champion. He continued showing dogs and later worked as a handler, training and showing dogs for various clients, as well as a groomer. Also, during his teen age years, he was the sole caretaker for a pack of Timber Wolves at a sanctuary in central Indiana.

Dan went on to complete his education in Computer Science and after working in the field for several years started his own computer consulting firm, DGE Automation, Inc., which has now been in business for over twenty-five (25) years. During that time, he always maintained his interest in dogs and always had one or more around as loyal companions.

About eleven (11) years ago, he adopted a Bloodhound/Beagle mix from the local Humane Society. He went on to train and certify this dog as an Expert Mantrailing Team. Since becoming involved with AMPWDA in 2009, he has well over 600 hours training with AMPWDA Master Trainers - Tony Keith, Dave Wheeler and John Holcomb. He has received training from numerous other trainers, including Jeff Schettler. He has been a trainer at fifteen (15) AMPWDA National Seminars, Winter Workshops, Jailbreak 2011, The Real-Life Scenario Seminar, varopis mantracking
classes and other state workshops. He has trained or helped train hundreds of dogs. Dan is a big believer in double blind testing and was instrumental in moving AMPWDA to a double blind test protocol for Mantrailing He has earned multiple certifications for Mantrailing and Mantracking (without K9) and been active on numerous manhunts, working with the Indiana Department of Natural Resources, several city and county Police Departments, and multiple volunteer fire departments. Dan also has a strong interest in Pet SAR and is a member of American Pet Search & Rescue. He has searched for and rescued numerous lost pets.