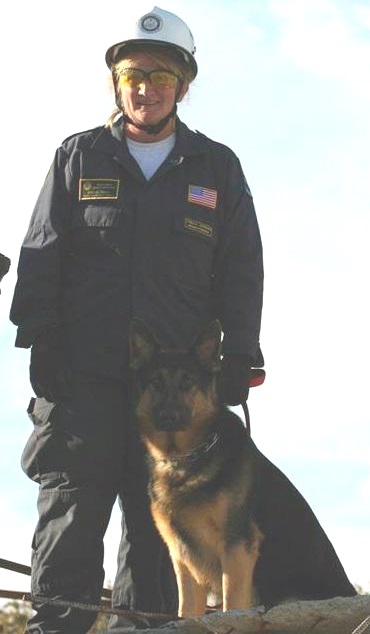 Erica Vieira
AMPWDA Instructor/Evaluator
Erica is a Patrol Sgt. in RI where she has worked for the past 30 years. She became involved in search and rescue shortly after 911, she wanted to do more to help in disaster situations and missing person cases.
She attended many search and rescue classes that included ground search, map and compass, GPS navigation and search management. In 2005 Erica started training in wilderness search and rescue and certified as a state resource with her canine Maxwell. In 2007 Erica joined the RI Urban Search and Rescue team where she trained and became certified as a Canine Search Specialist at Disaster City, Texas A&M. Her certifications include FEMA-SUSAR-RI State Police-NAPWDA and IPWDA.
In 2012 Erica became an IPWDA Instructor in Disaster and Wilderness, she has since relinquished this position due to restrictions regarding certifying for other agencies. Along with her position with AMPWDA, she is also an Evaluator for NSDA (National Search Dog Alliance) in Area and Disaster. She trains handlers how to read map and compass, pace count, GPS, Obedience and Agility. She is presently mentoring in Animal Behavior with NAPWDA MT Dr. Stephen MacKenzie of SUNY Cobleskill which she has been doing for the past 2 years. She is also training a patrol dog and will start doing explosive detection in the fall of 2016.