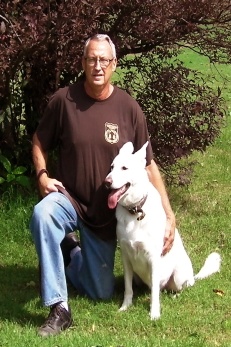 James Ashby
AMPWDA Trainer
Jim's interest in working with k 9's began at a young age. His interest grew as he attended hunts and field trials on weekends. This interested stayed with him as he aged and life responsibilities grew.

Once he retired, his interest intensified and time was not an issue. He was fortunate to meet a local trainer who was more than willing to help train him and Zenia, his k 9.

Jim quickly realized he had a lot to learn and attended different seminars presented by different organizations. After a period of time it was recommended that he train with AMPWDA. Once he attended a monthly free training session, Jim realized that he had found an organization that would help him grow in his quest for knowledge of working k 9's.

With this increase in knowledge and experience Jim has started and trained K 9 teams for local Search and Rescue Teams. He is the K 9 Team Leader and trainer for Daviess County Kentucky and Spencer County Indiana Search and Rescue teams.
I appreciate the kinship that Tony and all the members of AMPWDA have shown me. I know that my quest for knowledge will be fulfilled with this organization.