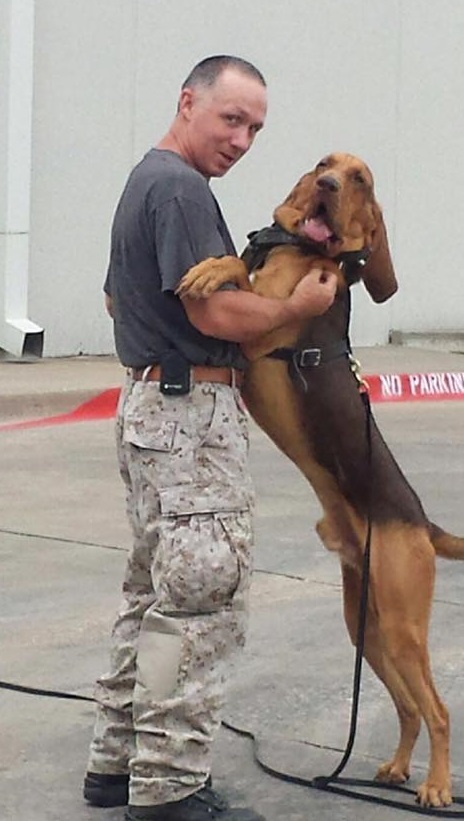 Kevin Pirtle
AMPWDA Trainer
Kevin served in the United States Navy for six years. While serving, he was also on an area volunteer fire department, which led him to going to EMT school. In EMT school, Kevin found his life's work. His desire to help people has escalated his career allowing him to continue his medical education to paramedic. Kevin has been a paramedic for 20 years. He has flown with a air medical service and worked ground ambulance. Kevin is now a firefighter/paramedic at a major international airport. In addition to his position with AMPWDA, he is a trailing instructor with International Bloodhound Training Institute.

He got his first bloodhound four years ago and with the assistance of his breeder, he entered the world of search and rescue. Kevin says Chase had so much energy he had to have a job, so he began training him in Mantrailing. Kevin and Chase are AMPWDA certified level 2 in Mantrailing. Kevin also has a female bloodhound named Khloe. Khloe is AMPWDA certified level 3 in Mantrailing. Kevin works his hounds in different environments several times a week on his days off. He has worked with law enforcement agencies to trail criminals and assisted in the search for lost/missing individuals.

Because of his career, Kevin has education in NIMS/ICS, CPR, triage and scene safety. All of which may be useful in search and rescue operations. He has been trained to respond as a tactical paramedic to active shooter situations to care for the wounded. He is attached to two search and rescue organizations in Texas. Mark9 is a SAR team in the Dallas/Ft. Worth Metroplex that will respond across the state when requested. Mark9 is able to respond with Air scent, Human Remains, or trailing K9's to best match the resources needed. The Cross Timbers Emergency Response Team is out of the Stephenville, TX area. Cross Timbers members assist with medical emergencies as well as other emergency situations throughout the county. Kevin is the only K9 handler on the team at the present time.