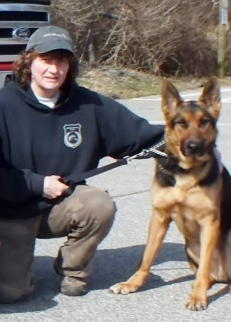 LuAnn Botelho
AMPWDA Trainer
LuAnn's love for animals started at a very young age. She grew up in the country, where there was always a wide variety of animals on hand. In 2005, a coworker of her husband owned a Bloodhound that was having puppies. Well, she decided she had to have one and that's when her love affair with Bloodhounds began and that lead to an interest in Search & Rescue.

She has completed numerous courses with various organizations, see below:

Rhode Island EMA: Basic Search & Rescue, Land Navigation, Response to Terrorist Bombings (PER-230), Prevention & Response to Suicide Bombing Incidents (PER-231), ISC 300, and ISC 400.

RIUSAR: K9 Decontamination and Bloodborne Pathogens.

FEMA: IS10, 11, 100, 111, 139, 200, 208, 230, 235, 240, 242, 244, 275, 288, 292 and more.

Michigan State University - School of Criminal Justice: Hazardous Material Response, Incident Management Systems, Unified Command, Emergency Response Planning and Evacuation Coordinator.

LuAnn has certified multiple K9s and she along with her K9 Abby hold the Distinguished Expert Mantrailing certification with AMPWDA. She has been on multiple searches and is a current member of the Rhode Island K9 Response Team. She is very active in Pet Search & Rescue and is the founder of American Pet Search & Rescue. She has searched for and/or rescued numerous lost pets. She and her K9 Abby have become somewhat local celebrities and have appeared on local TV and been featured in several newspaper articles. Along with Abby, she has another Bloodhound named Ziva. Both Abby and Ziva were named after characters on NCIS, LuAnn's favorite show.