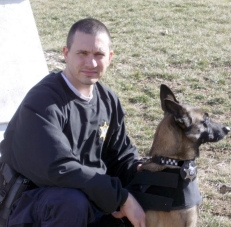 Mike Swindle
AMPWDA Master Trainer
Mike has been employed by a large law enforcement agency in Illinois for approximately 19 years and is currently assigned as an investigator in the St. Louis Metro-East Area. Prior to beginning his career in law enforcement, he worked in the medical field for 8 years which occasionally involved assisting with medicolegal death investigations. Mike has a bachelor's degree in Biology.

Mike purchased Dax, his first dog with working bloodlines in 2000. After having the opportunity to work as a helper with a law enforcement K9 training school in northern Illinois, he certified in tracking, article search, human remains detection (HRD) and building search. Mike cofounded a K9 SAR team in North Central Illinois with others who shared a common interest in working canines. He went on to serve approximately four (4) years as the director of training. In 2006, Mike transferred within his law enforcement agency from Northern Illinois to the St. Louis Metro-East Area where he is currently assigned. In 2007, Mike completed a local law enforcement agency's 210 hour patrol dog academy, with Darby, a Belgian Malinois who certified in HRD. Darby was successfully used in a number of criminal investigations and worked under the authority of a Coroner's Office in Illinois. During that time, Mike was a member of the Illinois Coroners and Medical Examiners Association and the Illinois Homicide Investigators Association. He also served as an investigator with the Greater St. Louis Major Case Squad through his law enforcement agency. Darby retired in 2013 and Mike is now training a new canine in the area of firearm detection and mantrailing.
Mike coordinates the Forensic Canine Section of AMPWDA which includes HRD, Evidence Detection, and Firearm Detection (new). Mike has developed his own curriculum for teaching crime scene preservation to non-law enforcement SAR handlers as well as a search hazards course. Mike is also an instructor in multiple areas within his law enforcement agency. Mike became a member of AMPWDA in 2011.